The Power of WE (Women Entrepreneur) Conference
Friday, May 19, 2023 
This years theme will focus on Amplifying Purpose + People + Profit
WE is Inspired by Women to Ignite Positive Change.
WE offers thought provoking content, resources and tools to inspire women's leadership development, creativity, and innovation. It also shares the many Federal, State and local funding opportunities that are available to women and highlights tools and resources to support women owned businesses. 
WE welcomes anyone who has an interest in she/her/hers topics and discussions.
WE encourage and support Colorado women owned businesses and entrepreneurs by setting alight self-awareness tools and practices and creating an environment to ignite positive change in women's professional and personal development.
WE discuss the community scale challenges facing each of us and our teams and collaborate on methodologies to support new directions.
WE 2023 Keynote Speaker
Taishya Adams, Founder
Mukuyu Collective, LLC
liberation strategist, earth-tender, and connector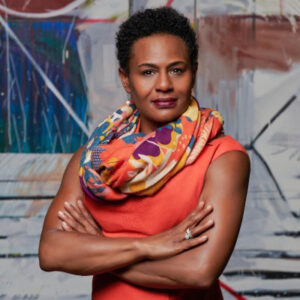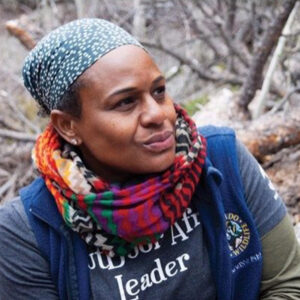 About our Keynote:
Taishya Adams is a passionate and dedicated servant leader laser focused on liberation through connection, personal transformation, and collective responsibility. She collaborates with multidisciplinary stakeholders at all levels to strengthen access, representation, meaningful participation and quality to balance the needs and wants of humans, other species, and the planet.
After over 25 years working across the country and the world, Taishya founded the Mukuyu Collective in 2020. The Collective is a dynamic firm that leverages the reform, reimagine, and recreate spaces for individual and collective liberation. Part consulting group, part imaginarium, part innovation lab, we work with our clients, partners, and collaborators to acknowledge historical barriers/opportunities, challenges assumptions, and co-create ways of being leveraging environment and education that balance the needs and wants of humans, other species, and the planet.
A former equity specialist, performance officer, and organizational leadership consultant with the American Institutes for Research, Outdoor Afro, DC Public Charter School Board, and the Children's Defense Fund Freedom Schools, Taishya now serves local, regional, state, national and international clients through a variety of services including equity reviews, organizational development, performance management, school quality reviews, educational program design, executive coaching, facilitation, stakeholder alignment, and community activation.
In 2019, Taishya was appointed by Governor Jared Polis to serve on the Colorado Parks and Wildlife Commission – the first African American woman in the Commission's history. The Commission sets regulations and policies for Colorado's 55 state parks and wildlife management. Ask me about cub denning!
She has served in a variety of roles and institutions including the American Institutes for Research, Children's Defense Fund Freedom Schools, United National Association Global Classrooms, National Alliance for Public Charter Schools and Outdoor Afro. and many more!
Taishya holds a MA in International Education from George Washington University and a BA from Vassar College in Political Science and Film.
May 19, 2023 AGENDA:
We are thrilled to bring you a diverse lineup of keynotes, guest speakers and panelists for this year's WE Conference.
8:00am Check In/Registration the Salida SteamPlant Event Center.
Morning piano performance by Megan Lambardo
8:30am "Welcome from our Emcee"
Heather Barron, Founder of Luminous Life and Transformational Life Coach. Salida SteamPlant Main Stage
8:50am "Women Owned Businesses in Colorado"
Frances Padilla, SBA Deputy District Director 
9:05am "The Power of Purpose & Your Why How it Matters in Business + Life"
Jamie Billesbach, Center Director, Central Mountain SBDC
9:30am Keynote
Taishya Adams, Founder of Mukuyu Collective
10:30am Break + Outdoor Exhibitor Hall
11:00am "Women-Owned Purpose Focused Storytelling"
Rachel Kois, Founder & CEO Simple Switch
Grace Kinda, Founder Iber! Naturals
11:30am Work Sessions (choose from 3 interactive options)
Main Stage – "Securing + Maximizing Funds"
Ballroom – "Telling Your Story to: Business to Business, Business to Client/Customers, and Business to Investor"
Annex – "LeanUp Start & Scale Processes to Expand Your Ideas for Growth"
12:30pm Lunch by Kalamatapit Catering 
1:30pm "Rising Up"
Niki Stotler, President | CEO at High Country Bank and WE Platinum Sponsor SteamPlant Main Stage
1:45pm "Women-Owned Purpose Focused Storytelling"
Denise Day + Lauren Beno,  Co-Founders of Town Hall Collaborative
2:00pm  "Transforming Trauma and Building Resilience"
Marisol Solarte-Erlacher, M.A., LPC, Speaker, Trainer + Trauma Expert
2:30pm "The Freedom of Giving Voice to Our Fears"
Laurie Benson, Founder Inward Bound Leadership + Author "Leading from the Feminine"
3:00pm "WE Financial Power Stories of Success + How To Get Funding"
3:30pm Break + Outdoor Exhibit Hall
3:45pm Work Sessions(choose from 3 options)
Main Stage – "Exploring Shadow Work Journaling" 
Ballroom – "Office Hours 1 on 1 Funding + Profit First Support"
Annex –"People Power – Leading with a Diverse Workforce" 
Marisol Solarte-Erlacher, M.A., LPC, Speaker, Trainer + Trauma Expert

4:45pm "WE Gather" Thoughts of the Day + Closing Ceremony" and Group Stage Photo Main Stage
5:15pm to 6:15pm "WE Gather Music + Social Connecting"
Ballroom + Outdoors along the Arkansas River
2022 Conference Speakers! 2023 coming soon!
A gracious thank you to our sponsors!